Our skilled team of dental professionals is dedicated to providing you with the thorough, professional care you need to regain and maintain a healthy smile. When you visit our office, we pay close attention to the details in order to provide you with personalized, high-quality care. Call Pantops Prosthodontics today at 434-977-9836 to learn more and schedule your appointment with Dr. Ben B. Ross.
---
Amber  – Front Desk/Patient Coordinator
My name is Amber, I am 29 years old. I graduated Fluvanna county high school in 2009. I obtained my CNA shortly after graduating and started pursuing my career in health care working with the elderly. My love for nursing came from helping my mother take care of my grandmother when I was younger. In 2014 after having my son I made a career change. I continued my nursing career part time throughout the 5 years I was at State Farm.  In 2019 I decided to come back into the health care field full time here at Pantops Prosthodontics. Dental was something completely new to me. I have learned so much and am so honored to be working with such a talented group of people.
I am a boy mom! I have a beautiful 7-year-old boy named Steven. When I am not at work caring for our patients, you can find us at a ball field, fishing, floating the James River or riding four wheelers on our land. He keeps me busy when I am not at work that is for sure! I have had the opportunity to bring Steven to meet Dr. Ross and the staff several times and they have really welcomed us into this practice as family. We could not be more grateful. We love our Pantops Prosthodontics Team/Family!
---
Elizabeth  – Dental Assistant
Hello! My name is Elizabeth. I began my dental career in Jan 1991 in the Berkshires of Western Massachusetts. After moving back to my hometown of Dutchess County, NY in Nov 1992 I began building on my knowledge and skill sets and was encouraged to attend a formal dental assisting program at BOCES Vocational Center, completing a 9 month certificate Nov 2006 in Expanded Dental Assisting Functions.
My daughter, Georgia, was born July 2007 and we decided to flee NY to Fluvanna County in July 2011 just 8 weeks after the birth of our twin boys, Levi and Nathan, in order to be closer to my parents and provide our family with a more carefree country life.
I value most the trusting relationships I am able to create with our patients and their families. I view dental health as a whole body approach and wish to factor in your lifestyle and mental mindset in order to fully engage you and your loved ones in your care and we value your voice in taking direction of your treatment.
When not in the office, I'm a homebody with our 3 children and 5 cats floating between my bookcases and gardens. I used to be a really good gourmet cook until I had children, now I love to host dinner parties and wine pairings (for adults) in order to get my swerve back on the table.
I feel a satisfactory sense of accomplishment and completeness being a member of the Pantops Prosthodontics team.
We look forward to serving you!
---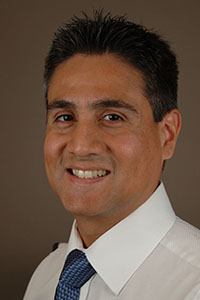 Luis – Dental Lab Technician
My name is Luis Fouscas. I moved to Charlottesville in 2013. I have been employed with Pantops Prosthodontics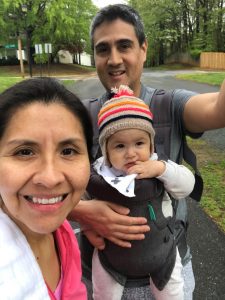 since 2015. I attended dental school in Peru where I earned my bachelor's degree in dentistry and dental laboratory. I am the happy husband of Evelyn Fouscas and father of a beautiful baby boy named David Fouscas. I enjoy riding bicycles, running, and playing drums when I am not caring for our patients. I also enjoy preparing meals with my wife in our free time.
I love helping patients here at Pantops Prosthodontics and giving them a smile that they can be proud of.
---
Zahra  – Dental Assistant
---