Ben B. Ross, DMD, FACP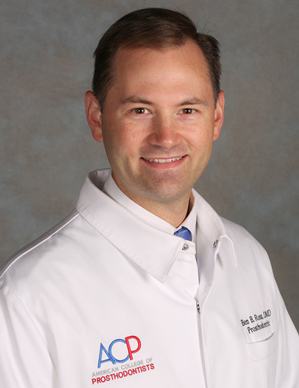 Dr. Ross grew up in the rolling hills of rural west Tennessee, where he learned the value of hard work and determination. Raised on a farm, Dr. Ross always knew he wanted to work with his hands and help people at the same time. He attended Vanderbilt University for his undergraduate studies, where he graduated cum laude. It is there that he became interested in dentistry while majoring in neuroscience. He decided to attend Tufts University School of Dental Medicine in Boston, MA, for dental school, where he graduated magna cum laude. Dr. Ross then joined the US Army Dental Corps in 2002, where he was one of three officers selected for residency training in Prosthodontics at Fort Gordon, GA. He completed his prosthodontics residency in 2006 and obtained his board certification from the American College of Prosthodontists in 2007. While on active duty, Dr. Ross was stationed at Walter Reed Army Medical Center in Washington, DC, and at Fort Belvoir, VA, where he instituted computer-aided surgical implant guides for wounded warriors and service members who were in need of his specialized dental care. He was deployed to Iraq in support of Operation Enduring Freedom from 2010-2011. He continues to serve his country in the US Army Reserves.
Dr. Ross is a board-certified prosthodontist* and a Fellow in the American College of Prosthodontists. He is the only Board Certified Prosthodontist in Central Virginia.  He holds memberships in the Academy of Osseointegration, the American Dental Association, the Virginia Dental Association, and the Shenandoah Valley Dental Association. Dr. Ross and his loving wife, Lynn, have three handsome sons and a beautiful daughter. He enjoys spending time with his family, running, working with computers, and attempting to follow college football (when the kids don't have the remote!). He enjoys traveling and keeping up with the latest developments in dental implant prosthodontics and guided dental implant surgery.
*What is a prosthodontist?
A prosthodontist is a dental specialist who, after completing dental school, receives two to three years of advanced training in the restoration and replacement of teeth in a specialty program at a hospital or university. Prosthodontists have mastered procedures that involve crowns, bridges, veneers, partials, dentures, and dental implants.
J. Greg Wall, DDS, FAGD (Retired)
Greg Wall graduated from the Virginia Military Institute in 1968, and from the Medical College of Virginia in 1972. He also completed an Army Dental Internship and two years of service before going into a general practice of dentistry in 1975. He returned for specialty training in prosthodontics and received a master's degree from Ohio State University in 1990. He then taught at Ohio State University for three years and was voted by the students as Instructor Of The Year for three years. Greg returned to Charlottesville, Virginia, in 1992, where his practice was limited to prosthodontics. He enjoys the challenges and frustrations of doing laboratory work. He is a member of the Academy of General Dentistry (Fellow), the Carl O. Boucher Prosthodontic Conference (past president), the American College of Prosthodontics, the Academy of Osseointegration, and the American Dental Association. His hobbies include tennis, fishing, and duck hunting.